Showers.
I don't consider myself a girl who needs a lot of luxuries in her life, but I love showers. The longer the better, and the pressure has to be just right!! A thin, miserable weak mist makes me very grumpy (and cold!).
I like them hot. I start the water temperature at a fairly moderate heat, and the longer I stay in there, the mixer gets turned to the left just a little bit more, and then just a little bit more. I like the water to have a bit of bite to it. I'd have two a day if I could (and sometimes I do).
There is no better feeling in this world than having gone for a massive run, or a challenging yoga class, or having done something where you feel physically spent, and then to stand under that soothing cascade of steaming water, washing every shred of tension, every drop of sweat away.
I definitely prefer showers to baths. I enjoy baths, don't get me wrong, but to keep warm in them, I usually end up adding more and more hot water (see above) and so end up bathing in my own sweat, and afterwards I need a shower to cool me down and well, get clean!
The best shower that I've had in my own home was in a flat in Hobart I rented nearly six years ago now. Albeit the flat itself was an ultra shrine to the early 1980s and had carpet in the bathroom, but the shower was amazing! Alas, the hot water cylinder was from the 1980s too, and I got maybe ten minutes in there with it on full pelt if I was lucky!
The shower in my current flat is really lovely. Water pressure perhaps not quite at Antipodean levels, but lovely. And the hot water never runs out!
My favourite shower gel is this one: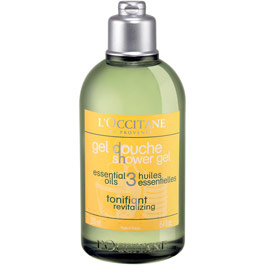 I used it all last summer while training for my half marathon, and I would use it in every shower after a long run in the sun. It smells of pine and rosemary and mint, and is the most refreshing thing ever! It is still my "after run" shower gel - as in, I'm only allowed to use it if I've been for a run. At £12 a bottle, it's my way of making it last longer! And it's a surprisingly successful motivator. As someone for whom an active lifestyle didn't come naturally and I've spent the last five years retraining my brain (and body) to adopt things such as triathlons, half marathons and 10ks among other things, you have to keep the motivation going however you can. The promise of a long, hot shower and some gorgeous, fresh smelling, expensive shower gel goes a long way to getting me off that couch!
Baths are good for me when I'm in a meditative mood...but showers are my every day luxury. Next to going for a run, they are a guaranteed way to make me feel good!
What about you? Are you a shower person or a bath person?