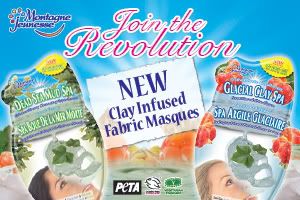 Another of my lovely July sponsors is
Montagne Jeunesse
, the UK's leading face masque brand. Based in Wales, Montagne Jeunesse was developed 27 years ago in Greg Butcher's kitchen. Greg, a vegetarian, wanted to make a fun and ethical beauty range that had minimal impact on animals and the environment. Today, the brand is available worldwide in 83 countries and carries over 55 different products (so you could try a different one every week for over a year!). All the products are approved by the Vegetarian Society, British Union for the Abolition of Vivisection and Cruelty Free International.
Montagne Jeunesse
are also pioneers in terms of energy efficient, carbon-neutral workplaces; they opened their first "Eco Factory" in 1994 (which had solar panels and a soil covered "living roof"!) and started using wind turbines to power their factories in 2001. The MJ Headquarters is called The Green Barn, a super energy efficient office in Wales with plenty of outdoor space which the team are cultivating to encourage biodiversity.
Having
had a go at making one of their masques myself
, I was surprised at how simple the formula was and that the berry masque I made actually had real berry purees in it! It did look like something you'd plop on top of porridge or yoghurt. There were no nasty chemicals! All Montagne Jeunesse products are made from natural ingredients and are paraben free.
As I've written before, I go through phases of being a real girly girl and then others when I don't make much of an effort (in my opinion anyway!) but I'm really getting into the habit of doing a face masque once a week. Since turning 30 I've realised my old "falling into bed with make up still on" routine's days are numbered (!) and so I have made taking good care of my skin a priority. And I do love face masques. I think giving my skin a weekly deep cleanse and boost is definitely paying off! My sister remarked I had a bit of a glow on Skype the other day ;)
Montagne Jeunesse
are so readily available - most supermarkets in the UK carry them - and they are so affordable too, with most masque sachets priced at £1.09.
So, they're good for your skin, the planet and your wallet!
These are my MJ favourites (so far!):
Apricot Scrub - I used to get this one from good old Priceline in Oz :)
The new
Clay Spas
were next on my list to try but now I've seen they have a
white chocolate masque
.....you can bet I'll be sniffing that one out sometime soon too!
Have you tried any Montagne Jeunesse masques? What's your favourite?
Thank you Montagne Jeunesse for showing the world that you can be a big brand AND ethical at the same time, and for being a part of SLSB this month!