The fact I survived
Saturday's race
and am here, 48 hours later, telling you the tale is an achievement, in my opinion! I truly had no idea that this race was going to be as tough as it was. The whole experience was so intense and at one point felt like it would never end. I could barely walk by the end of it. It was strange because mentally I was still strong because I knew I could do the distance, but the terrain was so tough that my body was slowly giving up. It took every ounce of strength I had, and lord knows where I got it from, to physically keep going. Just thinking about that murderous hill at the end is making my thighs ache!
I had trained for this race at parkland near my home in Buckinghamshire that has dirt paths, woods, fields and lots of hills where I had done both long runs and interval training (including hill strides!) so I had felt prepared. I'd combined the trail running with lots of road training as well, where I had noticed an improvement in my stamina. I had every reason to feel confident. So I thought.
The night before, I laid out all my kit, wrote a list of things to check off in the morning so I didn't leave the house without some vital bit of equipment, did yoga, watched
Run Fatboy Run
, carb loaded with rice and vegetarian chilli (delicious!) and had a fairly decent night's sleep. The alarm went off promptly and opening the window revealed a beautiful sunny but frosty early autumn morning. I had a cup of tea, water, Lucozade, toast with strawberry jam, and a few bites of overnight oats. I put a banana in my bag to eat on the way but in my excitement I forgot to eat it. That was a mistake!
We drove the back way to
Stonor Park
, rather than getting on the motorway. There was a classic car rally happening in one of the towns so it was such fun seeing all these "Mr Toad cars" as I call them puttering along the winding country roads. We arrived to a packed car park, with still an hour to go before the race started, and I stared in awe at all the hard core runners with their impressive trail gear! Here was I in my running capris with a hole in them that I'd patched up with safety pins (new capris are on their way I hasten to add)!
And so we followed the signs uphill to the start. It was freezing!! And the hill was very steep...a warning of what was to come, really!
After reaching the top of the hill and catching my breath (!) I registered and got my race number, timing band to go around my shoelaces and a race t-shirt which we were told if we wore it while running the race Helly Hansen would donate £2.50 to the race charity, Lifeboats. So I put mine on :)
The race was comprised of laps of Stonor Park, each one just under 4.4 miles. The half marathon was 3 laps, the full marathon 6. There were people doing it by themselves and also people doing the race in teams of 3 or 6. I love the atmosphere at the start of a race, everyone looked really pumped...but also a bit apprehensive!
At this point there wasn't long until the race start so I joined the queue for the loos and then looked around trying to get some clues of where the course was actually going to go around this massive property. I had been warned about "The Beast" of a hill that concluded each lap....but I could see lots of hills!!
Finally the announcement came on that we were to go to the start so I said goodbye to Tom and joined the throngs of runners, right at the back. The gun went off and away we went! You can see this in the video:
The start of the race was all downhill....and unfortunately, it was all downhill from here for me, figuratively speaking, as well!! You know how I always say that you won't know if the run is going to be good or bad until you start....well, within a few minutes I knew this was going to be tough. My breathing was all out of whack and I could feel a stitch bubbling away in my ribcage. But as I was already at the back I didn't want to stop and get completely left behind so I kept going, slowing the pace and trying to get my breathing under control. It took most of Lap 1 to do that because the course was on an almost constant incline. I would try and power up the hills but then when there was a decline on the other side I'd get a stitch almost immediately. I couldn't believe it. I had trained! I'd run heaps of half marathons before! It had never been this hard in training! I felt overwhelmed with disappointment. What on earth was I going to do?! I was going to have to walk most of it at this rate!! My pride was forcing me to keep up with the other runners but I knew I wasn't going to be able to do it for another two laps. I was just going to have to forget about everyone else, forget about time, forget about wanting to write a glorious and triumphant race report, and just run my own race.
Negative thinking is something you just can't afford in a long distance race, particularly when you have only just started it. I forced myself to think about what advice I've given to others who have had bad runs/races and tried to implement it as much as possible. It was hard though. I tried to think about other runners' strategies that I'd read about over the years that I could do to get me through this. I remembered
Alison's
excellent "run 2 songs, walk 1" plan that she uses in marathons, so I started doing that. But it ended up being a 1:1 ratio for me, I'm afraid!
The problem was that although I had trained on hills I had never done a long distance race that was on an almost permanent incline before. There were flat sections, but they were only for about 400m or so, then it was back to hills! I just hadn't built up enough strength. Aerobically, apart from the breathing being out of whack, I was ok. If it had just been a bit flatter.... ;)
I started feeling better once I was on the last quarter of the first lap, the breathing seemed under control and I had hit a downhill section where I picked up some speed. Then it was flat for a bit and I started to feel a bit more confident. I had seen Tom a few times - he had positioned himself well! - and I'd forced myself to stay strong and plaster on a smile for him. I thought the start of the second lap must surely not be too far away. And it wasn't.....but I had to get up "The Beast" first!!
Imagine a hill practically at 90 degrees! No one was running up it at this stage, everyone had stopped to walk (that made me feel a bit better!). I tried the old trick of not looking to the top, only at the horizon. It helped, but only marginally. The burn! Oh, the burn!! But finally I made it to the top and went around again and downhill for the start of Lap 2!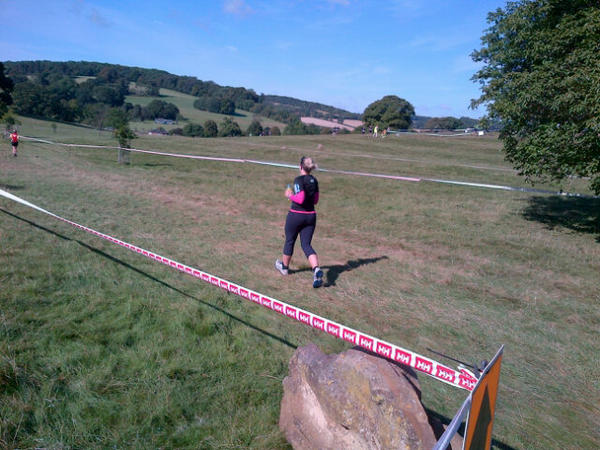 At this point, I was starting to feel ok. I started feeling less freaked out and more engaged in the surroundings (it really was beautiful!) and what was going on. I kept my eye on another runner, a girl with a bright yellow jersey on called Speedy Mel, who was about 200m in front of me at this stage. I noted she was stopping to walk regularly as well so that made me feel a bit better about not being able to run constantly. I saw Speedy Mel as I was finishing, on another lap, so she must have been doing the marathon. Hats off to you, Speedy Mel!
There was a herd of wild deer, about 20 of them, that galloped through the park at one point and they were spectacular to watch. "Chariots of Fire" came on on my iPod and made me well up a bit. I saw Tom and waved and smiled, but as I passed him and had to go up another hill I was thinking "I can't believe I have to do what I've already done again!"
Once the semi-flat beginning of the second lap was over and the constant incline started again, the despondent thinking crept back in again and I had to really work hard mentally to fight it off. I stopped to stretch my calves quite a bit as they were very tight. I found I could run better and for a bit longer after stopping for a stretch, so that helped. I ripped open my bag of jelly beans and scoffed them down, as I was feeling a bit empty, fuel-wise. I had a bottle of Lucozade in my hand which I was sipping at regularly. What I wish I had done was stop at the Clif Bar stand at the beginning of each lap, where they had bars you could grab to eat. I barely noticed them as I was just so happy to have got to the top and be starting another lap, I didn't want to lose momentum! I wish I had stopped, just for 30 seconds, for some fuel. It might have made a big difference. It really wasn't the same as running a half marathon on flat concrete roads and I didn't appreciate that until I was actually doing it!
At the end of Lap 2 I had just reached the top and was about to start Lap 3 when a marshall got my attention and said "the half marathon finish is over there", pointing to the left hand side of the course.
"I still have another lap to go!" I said, thinking oh dear, I must be very slow if this person thinks I should be finished by now! And for a split second I thought about just going over there and finishing, just so it would be over. Everything was aching, my breathing problems had returned and I couldn't believe I had another lap to go.
By now I was so fatigued I was finding it hard to lift my feet properly and hence my shoes were collecting a lot of dirt and long grass. This was also tricky because the terrain was so uneven so I found myself tripping slightly on a constant basis! There were rocks and tree roots to dodge, and a lot of the course was on a bit of a slope so one leg had to work harder than the other to keep me upright for most of the race. I could feel my left foot kind of moulding into my shoe, if that makes sense. It was very uncomfortable. I ran for as long as I could and then I would walk to get my breath back and then try to run again, but it was getting harder and harder to sustain any kind of rhythm or pace for long. I couldn't even run on the flat bits any more at this stage. The only parts I could run were on the downhill bits!

At this point I really didn't think I was going to make it. I was exhausted and in pain and could not understand for the life of me why I do this for fun. No one had made me do this! This had all been my choice! What an idiot! Mentally I knew I could do the distance but my body had actually started failing on me! Every time I hit a hill I had to walk and even that was getting harder and harder. I thought the next time I saw Tom I would just collapse in his arms and sob "I can't do it! I can't keep going!" I didn't remember even the London Marathon being this hard! I felt like such a failure. People doing the freaking marathon were passing me! "What are you doing here Phil?" I moaned.

And then a Pink song came on my iPod and the line blasted right through my blues.... "so what?! I'm still a rock star!"
Repeating that line to myself over and over for the rest of that lap was what kept me going! It was the comeback for every negative thought I had.
I'm going to be dead last.
SO WHAT?!
There's a crowd of supporters coming up and they're going to see me walking and they'll think I'm pathetic!
SO WHAT?!
Tom is videoing this and I'm going to look terrible!
SO WHAT?!
I'm going to have to write about how bad this was on the blog and everyone is going to think I suck!
SO WHAT?!
Pink, my new running hero!

I also kept saying to myself, over and over, that it was ok to walk if I needed to. I was going to finish, come what may, and if I had to walk, so be it. "It's ok, not long now, you're doing really well," I said to myself, through gritted teeth. Marathoners were passing me with gusto, even clipping me on the odd occasion (which shitted me, to be honest, there was plenty of room to go around me!) but I kept on going.
A horrible stitch had come back on the final decline, so awful I thought I was going to be sick. "Oh, go away!" I shrieked in frustration, almost in tears. I could feel myself tripping over my own enormous feet. I had slowed down a little purely because I didn't want to fall and injure myself on the final hurdle. I dodged rocks and fallen branches as best as I could, trying to remember where the rabbit holes in the long grass were so I didn't fall into them!
I saw Tom again and I thought I was going to cry. But I didn't. "Nearly there!" I panted as I went by, my hand briefly grazing his.
It was later on, after the race, that Tom told me that he'd seen some horrendous things on the course. He had seen a man with an open head wound, blood gushing down his face, still running. He had seen people fall over. He'd seen one guy rip his ankle open and start screaming. He said no one looked like they were having an easy time of it!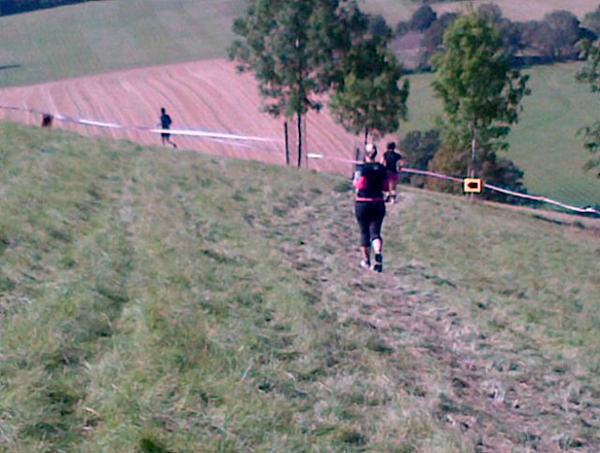 Finally, "the Beast" was in full view and I knew it was nearly over. I glanced at my watch and saw it was coming up for three hours since the start. Aargh. Worst time ever. Ever. In the history of everness. I was last, for sure.
But a sign on the way up the hill, which I hadn't noticed until now, said "Dead last is better than didn't finish, and didn't finish is better than didn't start."
I carried on, through the burn and the all-consuming ache, up that hill. Around me, the battle weary marathoners were pushing themselves up too. I stopped halfway to catch my breath. One of them stopped with me and then walked up the rest of the hill with me, chatting, telling me this was the end of his fourth lap. My God, having someone to talk to really helped! It took my mind off the pain and how much further we had to go, and before I knew it we had reached the top. I thanked him for staying with me and wished him best of luck with the rest of his race, and then I finally, FINALLY could go through the finish line. I had nothing left but I ran anyway.
And then, just like that, it was over. The pain was gone. I had done it!
I had my timing band cut off, a medal put around my neck, and collected a goody bag and a recovery drink, and then staggered off into the sunshine to find Tom!
I lay down in the grass and just let myself be. I was so exhausted, I could barely speak. Tom just sat with me, let me put my head on his lap and told me about how the race had been for him as a spectator, and told me all the gory stories!
I couldn't believe how hard it had been.....and how I had even managed to cross the finish line at all. The results are through and I was right - I came last. But, as Pink would say, SO WHAT?! I still did it! I didn't get injured, which sounds like an achievement in itself, and I didn't give up.

I don't think trail running is for me, I have to say, as I now believe it is the domain of the super, super fit! But I'm proud I gave it a go.
I came away from Saturday's experience feeling more humble about my sport than I have felt in a long time, perhaps ever. Running a race of that magnitude is always an achievement in itself and I really do forget that sometimes. Because I've run a marathon I think nothing is beyond me and I should be able to do anything....but I need to remember that
doing it
is the most important thing. I am as guilty as the next person of expecting great things every time I show up to a race instead of just patting myself on the back for showing up, giving it my best and crossing the finish line. I forget sometimes that
I couldn't run at all
.
I don't think I've ever felt more unfit or less of a runner than I did on Saturday. It was not my finest hour. But I still did it. I didn't give up, I crossed the finish line.

PBs, looking great in the finish photos....that's a bonus. Doing it in the first place is the thing to be proud of.
I can only hope and PRAY that the next two are going to be somewhat easier!!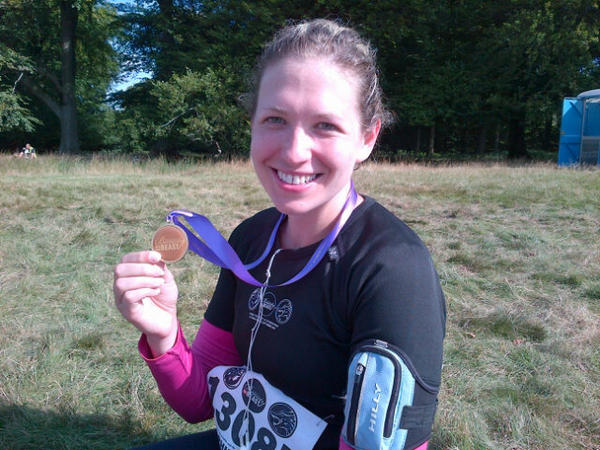 "Never, ever, ever, ever, ever, ever, ever, give up." - Winston Churchill