Well, I'm officially two thirds of the way through my
three half marathons in three weeks challenge
....and I'm still standing!
The race I did on Sunday, the
Ikano Robin Hood Half Marathon
in Nottingham, was a last minute inclusion in the challenge when I cheekily entered a Twitter competition Lucozade were running at the beginning of August, just for a laugh.....and won a place! So that took me from
two half marathons within a fortnight
to one every weekend for three weeks, and Project Insanity began.
The first race
was not my finest hour, as you all know! And so I went into last week feeling a bit nervous and secretly worried that my fitness had taken a real nosedive. After taking two days off to recover as, weirdly, my right arm was very sore, I started slowly with a 5k on Tuesday; then 11k on Wednesday; then 13k on Friday. None of these runs were spectacular but they were ok. I got a stitch in all of them, right at the beginning, and also needed a brief walking break about halfway through, which was so disappointing and made me think my fitness was well and truly below par to cope with another two half marathons. But I read up about stitches and a technique advised on the Runner's World forums helped - breathe out as the foot on the side of your body on which you have the stitch hits the ground (does that make sense?). And there were moments of awesomeness, despite everything - running in the rain and picking up some speed in Friday's run, which was great - so I spent Saturday feeling pretty good and hopeful that I would at least get through it.
Saturday, I carb loaded with leftover gluten free pasta for lunch and leek and broccoli baked potatoes for dinner, while we watched the spectacular
Chariots of Fire
. I laid out my kit, wrote my list to check in the morning, and we headed off to sleep.
But, oh. The
curse
reared it's
ugly head
again!
Because we had decided to drive to Nottingham on the morning of the race, we had to be up at 4:30am on Sunday to leave by 5:30am, to allow three hours to get there. We went to bed nice and early on Saturday night. Our new neighbour, however, was having a rave. Tom also had a stinking head cold. I think we got about three hours sleep. At 2:30am, as we were both lying there, exhausted, I said to Tom, "I am so close to just calling the whole thing off."
At 4:30am, somehow we managed to shower, dress, secure the house and pack the car. It was pitch black outside. Being so tired we were both convinced we'd forgotten something so after a bit of OCD checking everything, we finally left at 5:45.
I ate my bagel with peanut butter and strawberry jam in the car, sipped Lucozade and watched the sun rise as we finally found the entrance to the M1 (Milton Keynes has so many roundabouts, we always get lost!). I had never seen a sunrise before (that I could remember anyway) so that made me happy and took my mind off the tiredness! We stopped halfway so I could take over the driving, then Tom took over again just before we hit Nottingham. We saw the line up to the car park at the race village and decided we would be better off finding a car park in the city centre and walking down, which a lot of other people were doing too. It was a 1.2 mile walk in, which was a good warm up. Had a
Caffe Mocha Nakd bar
on the walk, which I shared with Tom.
Finally we arrived at the race village, which had a very carnival-like atmosphere! Did the usual lining up for the loos, then pinning on the race number, and then there wasn't very much time to hang about before I needed to head off to the green pen for the start.
On the drive up and the walk from the city centre to the village I had been so tired I'd felt nauseous. But now I was quite pumped and excited to get going!
Poor old Tom was going to have to find somewhere warm to watch the race: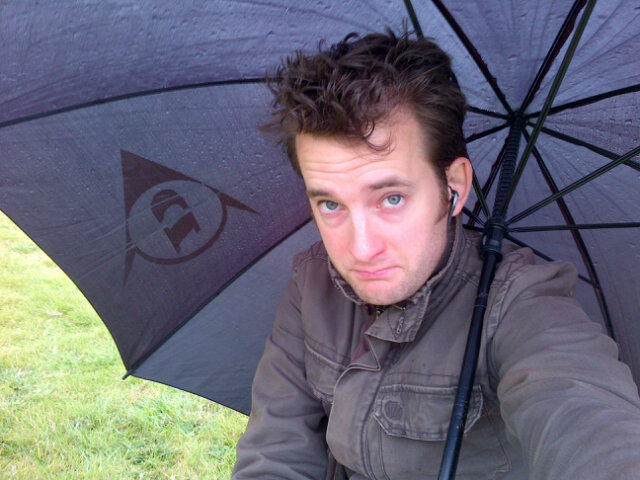 I had my arm band with sports beans, phone and spare hair ties in; my iPod shuffle with new music on (!) and a bottle of Lucozade in my hand which I couldn't get open because my hands were so cold and it was stuck - the man next to me who eventually got it open for me struggled too! There wasn't much hanging about - the race start was 9:30am, and we crossed the start line about 9:35.
I had made the decision to run the first two or three miles at warm up pace to avoid the stitch problem - it still appeared though, within the first five minutes, annoyingly. I just breathed and did my foot strike technique and it soon disappeared. Originally I was planning a few walking breaks as well, but I felt very strong so I thought I would see how far I could go without stopping to walk. Having needed a walking break in every run lately I was expecting to have to stop at 5 miles or less.
The race started at the Victoria Embankment, along the River Trent, and then went through the city out to the Nottingham University.
The first five miles, apart from a brief stitch at the start, and having to hitch up my new running capris, I felt fantastic. It was a lovely atmosphere and I felt I was back where I belonged, if that makes sense. The atmosphere was just so much lighter than it had been the week before. I saw people running with Robin Hood costumes and giant backpacks and fairy wings on and I thought "yes! These are my people!" :)
I was so happy to have reached the 5 mile mark without stopping to walk. I said to myself "how about you see if you can make it to 6 miles without stopping to walk?" and I felt great so I kept going. At this point we were at the Nottingham University and it was just beautiful. The tree-lined University Boulevard, a gorgeous blend of summer green and autumn gold, was so pretty. The buildings were beautiful, it was lovely having something so nice to look at and take my mind off things! I hit 6 miles and kept going, telling myself I should at least make it halfway before taking a break. But I didn't have to. At the halfway mark there were some fantastic drummers, not unlike the ones at mile 6 at the London Marathon, and everyone's faces just lit up as we approached them. What a boost! No stopping now!
Up to now it had all been smooth surface roads but for the next mile as we went around the lake was all uneven, so I was happy my trail experience was going to be put to good use. I hit mile 7 and thought "right, let's see if you can get to mile 8!", so on I went. I was so happy with my pace and form. I couldn't see any pacers anywhere so assumed they must have all been in front. I decided to put time right out of my mind. All I cared about was having a good strong run. It was all about returning to form!
So Mile 8 came and went, and then it was "let's see if you can get to Mile 9!" and I was so happy I was holding the pace and rhythm. What a turnaround from last week's race where I could barely run for three minutes without needing to walk! It really helped that this was a flat course. There were only two hills, that I remember, and they were EASY compared to last week! I ran up both of them!
Either just before Mile 9 or after, there was a car wash where the owner was standing out front, with a huge sprinkler, spraying all of us hot, sweaty runners. It was magic! The rain had held off and even though it wasn't a warm day, the sun was out and we were all pretty hot by now. I remember reaching up to brush some hair out of my face and feeling my hair crusted with salt.
At this point I realised the 2:30 pacer was right on my heels. I tried to keep up with them but I was just starting to flag by then. I was a bit confused though, because according to my watch I was on target to do it in under 2:30 (which was all I minded about really!). I reached Mile 10 (16.09km) and finally decided to have a short walking break as I was thrilled I had made it that far without needing to walk. Fuel wise, I hadn't needed my beans, I had only been sipping Lucozade as and when I needed it. I was starting to flag just a little but I knew it wasn't fuel I needed, I was just tired. So I stopped and walked.
This is the one part of the race I regret....sort of.
I probably could have kept going. The minute I stopped, my lower body went numb! I could barely feel my legs. I walked as fast as I could and enjoyed the break, trying to get as much Lucozade down me as I could, but I felt it flood my stomach and felt a bit sick. So I had to walk a bit longer until that feeling went away. I think I walked for about five minutes then I started running again. Weirdly enough, I felt better running than I did walking. I didn't walk again! I wonder if I'd just gritted my teeth and got on with it I could have run the whole thing. I guess I'll find out this Sunday ;)
I hit the 11 mile mark and by this time we were back at the Victoria Embankment and only had two miles to go. You could see the faster people on the other side, heading up to the finish! Oh how I wanted to be there!
This was the song that got me through to Mile 12:
You're indestructible! Always believe it!
:D
At this point, I felt fantastic! The end was in sight! One foot in front of the other.
When we finally reached the descent into the race village arena, my body was filled with adrenalin and I picked up the pace. I saw Tom in the crowd waving and smiling, it's always so lovely to see him :) When I finally saw the finish line, I gave it everything I had. I saw the timer saying "2:29:50" and I was determined to get over the line in under two and a half hours so I gunned it!
My official chip time was 2:26:09! Twelve minutes slower than my PB, admittedly, but form wise, I was BACK baby!
I got a medal, goody bag and a fresh Lucozade and then went to find Tom at our agreed meeting place. It was so good to get a hug and read all the lovely Tweets from my friends and just let the elation of having completed the race, and have actually had a
good
race for the first time in ages, sink in. I couldn't believe that, having had a shocking start to the day and being so close to chucking it in, I'd had the best race I'd had all year!
Then Tom and I walked back to the car and headed south, back home.....but this is when the fatigue really hit both of us! We stopped in Leicester for coffee and a sandwich, and then I took over the driving because I was still buzzing. I got us back to Milton Keynes and then Tom got us home. I couldn't handle the roundabouts!!
We got home utterly, utterly spent. We had about two hours where we showered, snacked, had cups of tea and tried to watch a film.....but we ended up going to bed at 6:45pm!! And slept through until 8:50 the next morning!! We must have needed it ;)
All up, the
Ikano Robin Hood half marathon
was a fantastic race and it has really helped me build up my running confidence again. There was plenty of space to accommodate all the runners, so you didn't get crowded and stuck. There was a lot of local support and crowds cheering us on, and the marshalls were excellent. If you're at your peak and want a nice flat course to get a PB on, or if you're a beginner and want something not too challenging terrain-wise for your first half marathon, this is the race!
It was no where near as brutal as Beauty and The Beast, but I still felt like I completed this race against the odds. It just goes to show,
NEVER give up
, no matter what!