Well, it's been an
awesome
12 days over here at SLSB! Thank you very much for all the interest and support, it's so lovely "meeting" readers who haven't commented before :) I wish I could give a prize to everyone. Remember all the give-aways remain open until midnight tonight (UK time) so get in quick!
I thought we'd end the give-away with a bang so today's very generous prize is not one, not two but
TWELVE
prizes!
Twelve lucky UK readers will get......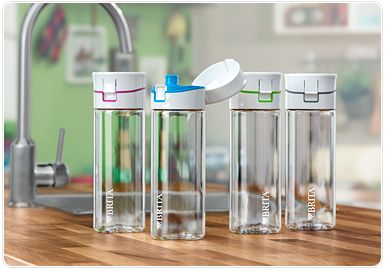 A BRITA Fill N Go!
This handy little thing has barely left my side since I got one over the summer. It's the best drink bottle for commuting/travelling that I've had for a long while.
It's quite big (it holds 600ml) and fits very easily into my backpack side pocket or carry bag. It has a filter in it that you replace as you need to and there's also a straw in it that means you don't have to tilt your head back to drink, you just suck it up through the straw. So easy! So far it's kept the water in it lovely and cold too. And it doesn't leak either!
It's great to have a reusable bottle that not only looks good but is doing me and the environment good too :)
I get comments on my
Fill N Go
every time I use it and the point of this 12 Days of Christmas give-away was to share things with you guys that I enjoy, believe in and have been lucky enough to try.....so here we are!
Thank you
BRITA
for being so generous! 12
Fill N Gos
are up for grabs.....what are you waiting for?!
For your chance to win a
Fill N Go
, please
leave a comment on this post
with your name and a way of contacting you if you don't have a blog/Google account so you can be notified if you win.

For extra entries you can also do one or both of the following:
Please leave a separate comment for each extra entry, I would hate to miss anyone :)
Entries close midnight, 12th December 2012 (UK time). Winners will be drawn at random and notified on 13th December 2012.
Please note this give-away is for UK only.
This, and all the other give-aways, will close at midnight tonight (UK time), Wednesday December 12. Good luck!